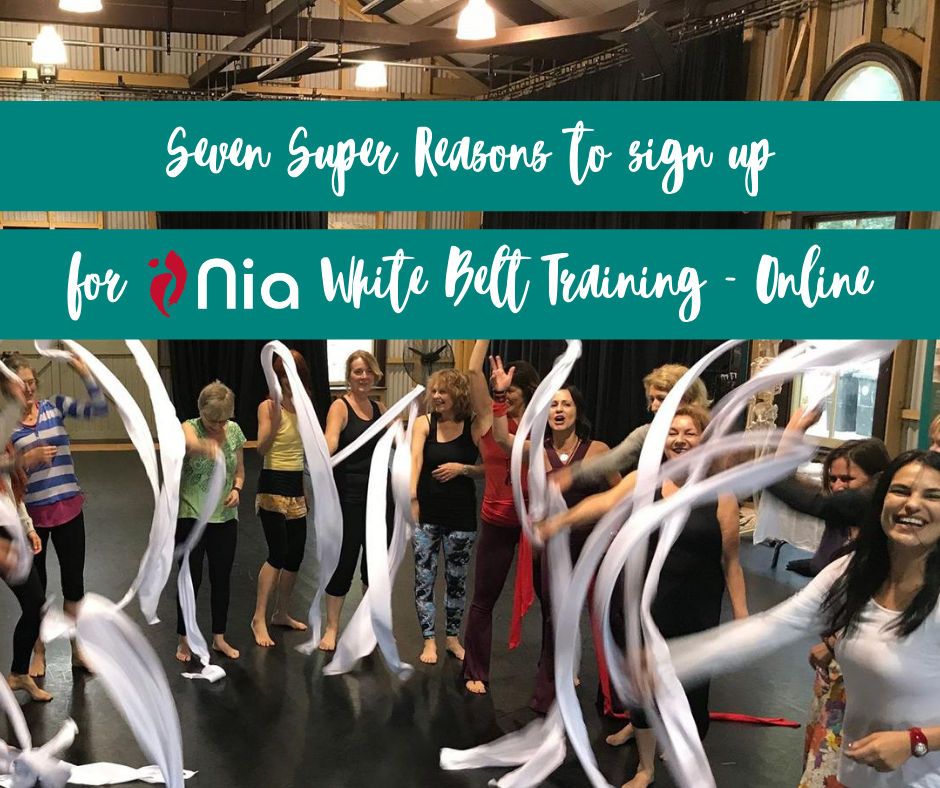 With many classes moving to an online platform, we have now moved our Nia White Belt Training online too for the foreseeable future. In this Blog Post, we want to share with you seven reasons why being part of this immersion is a wonderful way to experience this popular training.
1. There's no place like home.
Receive the magic and connection of a Nia Training, with comfort, privacy and convenience. Participants have reported that it helps deepen their existing practice and supports establishing a new routine when they are guided in their own home (or wherever you feel safe to come as you are).
2. Take your time.
With 16 weekly 2-hour LEARN sessions via Zoom, plus "home-play" EMBODY activities, there's time and space for you to process, practise and personalise each of Nia's principles, and apply it to your body and life. Freedom to orient the learning to your unique timing and speed means you'll feel more relaxed and take in more information. Each session is recorded in case you have miss a week or if you want to listen in again. Slow down, self-guide, heal, make it right for you.
3. Meaningful learning becomes embodied knowledge.
When you learn about Nia in this format, you also go deeper in your own self-discovery – body, mind, emotions + spirit. The information becomes meaningful to you, motivating you to do it again… and again… transforming your brain, your body and your life. You become more embodied – fully inhabiting the intelligence of the body, unlocking its natural healing abilities, and attuning to the world through it.
"Not until I took the White Belt training did I begin to really feel, to sense, to experience what my body knows."
~ Dr Lissa Rankin, best selling author of Mind Over Medicine
4. This is NEW never seen before content.
Debbie Rosas, Nia's creator, is constantly evolving the training and materials, informed by the latest research in body-brain health, education and personal growth practices. This updated Nia White Belt training has been specifically adapted for online learning, including the beautiful downloadable Nia SENSE Content Book and EMBODY Journal. Nia White Belt online delivers the information as a multi-sensory experience, so all learning styles are catered for.
5. Get access to NiaTV and ALL of Sophie's ONLINE Nia Classes for FREE
You'll be more motivated and inspired to move towards the fitness, health and body-love you desire when you feel supported by and accountable to a community of like-minded people. Nia White Belt also teaches you how to get so much more out of every Nia class experience. Free access is valid for First time White Belt trainees during the 16 weeks of training and worth over $500.
6. Retake any IN PERSON training for USD99.
Grads of this Nia Online Training receive priority to retake any 2020-21 "In Person" Nia White Belt Trainings with Sophie for only USD99 (a saving of $600). No FOMO!
7. Change the world, one body at a time, starting with YOU.
These are extraordinary times. Nia White Belt gives you tools to cope with challenges and change, to calm your nervous system and move through stress. It helps centre, mend and prepare people for the journey of life. As you come home to your body and live into your potential with vitality, pleasure, intention and purpose, you raise your own vibration. You feel more loving, compassionate and fully yourself, and this positive shift ripples out to benefit all those around you… family, friends, community and beyond.
"To be present to the magic of your body responding to life is to feel life flooding in and out of you every second of the day."
This post was written by Sophie Marsh and published here.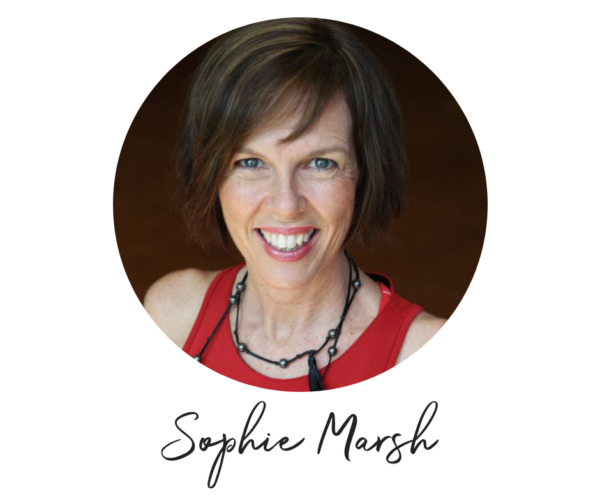 Sophie Marsh is Australia's only White Belt Trainer in the International Nia Training faculty and the first Aussie Black Belt teacher. She has completed the Nia White, Green, Blue, Brown and Black Belt trainings, the Art of Teaching (Level 1), Moving to Heal, 52 Moves and the Nia 5 Stages trainings. Sophie is based in Brisbane.
For over 18 years, she has guided and inspired people to reclaim their aliveness, fitness, well-being and sense of Self through Nia's body-centred movement and education. After living and training in the US, Sophie brought Nia home with her when she returned to Brisbane in 2004. She has been collaboratively building and leading an Australia-wide Nia community ever since.
In her classes, workshops, retreats and trainings, Sophie holds a welcoming and playful space for people of all ages and backgrounds to connect with their body's innate wisdom and joy of movement. Sophie also shares adapted Nia sessions, "Joy Therapy" for populations with special needs, including multicultural communities, teens and older populations, mental health groups, cancer survivors, and for women desiring to heal their relationship with their sensuous body.
Learn more about Sophie and her Class Timetable.