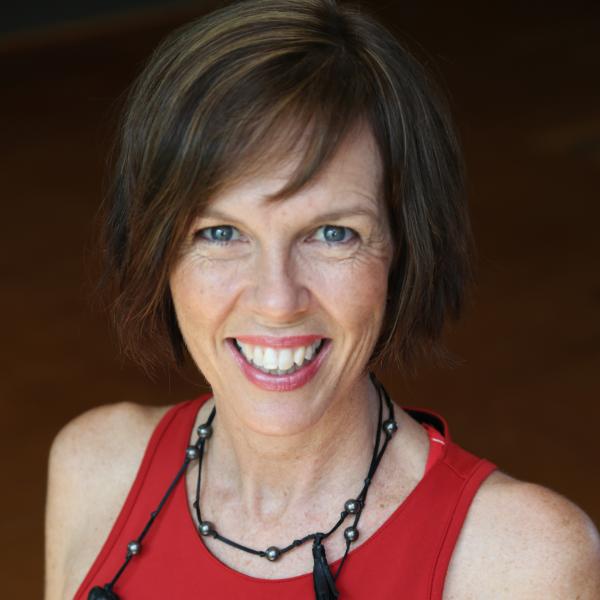 Biography
Sophie Marsh is Australia's only White Belt Trainer in the International Nia Training faculty and the first Aussie Black Belt teacher. She has completed the Nia White, Green, Blue, Brown and Black Belt trainings, the Art of Teaching (Level 1), Moving to Heal, 52 Moves and the Nia 5 Stages trainings. Sophie is based in Brisbane.
For over 20 years, she has guided and inspired people to reclaim their aliveness, fitness, well-being and sense of Self through Nia's body-centred movement and education. After living and training in the US, Sophie brought Nia home with her when she returned to Brisbane in 2004. She has been collaboratively building and leading an Australia-wide Nia community ever since.
In her classes, workshops, retreats and trainings, Sophie holds a safe, welcoming and playful space for people of all ages and backgrounds to connect with their body's innate wisdom and joy of movement.  
Sophie also shares adapted Nia sessions, "Joy Therapy" for populations with special needs, including multicultural communities, teens and older populations, mental health groups, cancer survivors, and for women desiring to heal their relationship with their sensuous body. She is a Trauma Informed Practitioner.
"We are all born with unlimited magnificence. What if there was a way of moving and living in your body that reconnected you to the sensation of that truth? Whether it's a Nia class or the 7 day White Belt training, you already have all you need within. Your body knows. You are ready now. It's time to step in."
Pricing and Details
New to Nia? 1st class Taster $5
Casual ONLINE $15
Casual IN PERSON $20. Concession $15
Unlimited JOY – 7 days ONLINE classes $35
Unlimited JOY – 7 days ALL classes $45
5-class ONLINE $60
5-class ALL $75
PAYMENT THROUGH PUNCHPASS OR BANK TRANSFER
On 23 September, I fractured my foot in 2 places (not doing Nia!).  Instead of  the initial prognosis of 4-6 weeks in a moon boot, after only 13 days, I've been given the all clear to take it off and begin moving to heal.  I hope you'll join me as I gently ease back into offering classes from 12 October.
ONLINE via Zoom (Times are Brisbane AEST)
Monday Gentle Nia 7:45am-8:45am
Wednesday Nia 52Moves Practice + Play 4:00pm-5:00pm
Friday Gentle Nia 8:30am-9:30am
Saturday Nia 8:30am-9:30am
IN PERSON –  SUSPENDED UFN.
Monday 
Nia
9:30am-10:30am BrisWest 132 LaTrobe Tce
Paddington 4064
Thursday Nia 
9:30am-10:30am BrisWest 132 LaTrobe Tce
Paddington 4064
Saturdays Nia 8:30am-9:30am RiverCity Ballroom 4 Mollison St West End 4101
Questions or need tech support?  Email or call me!
Mobile: 0431 484 054
Current Classes
| Location | Class Type | Time |
| --- | --- | --- |
| 4 Mollison St, West End, Queensland, Australia | Nia 5 Stages SUSPENDED | 8:00am - 8:30am Saturday |
| 4 Mollison St, West End, Queensland, Australia | Classic Nia | 8:30am - 9:30am from 7 November Saturday |
| Naya Ubud, Sayan, Gianyar, Bali, Indonesia | Retreat | 2021 dates TBA Friday |
| 132 Latrobe Terrace, Paddington QLD, Australia | Classic Nia | 9:30am - 10:30am from 2 November Monday |
| 132 Latrobe Terrace, Paddington QLD, Australia | Classic Nia | 9:30am - 10:30am from 5 November Thursday |
| Brisbane QLD, Australia | Gentle Nia ONLINE | 7:45am - 8:45am Monday |
| Brisbane QLD, Australia | Gentle Nia ONLINE | 8:30am - 9:30am Friday |
| Brisbane QLD, Australia | Classic Nia ONLINE | 8:30am - 9:30am Saturday |
| Brisbane QLD 4000, Australia | Nia 52Moves ONLINE | 4:00pm - 5:00pm Wednesday |