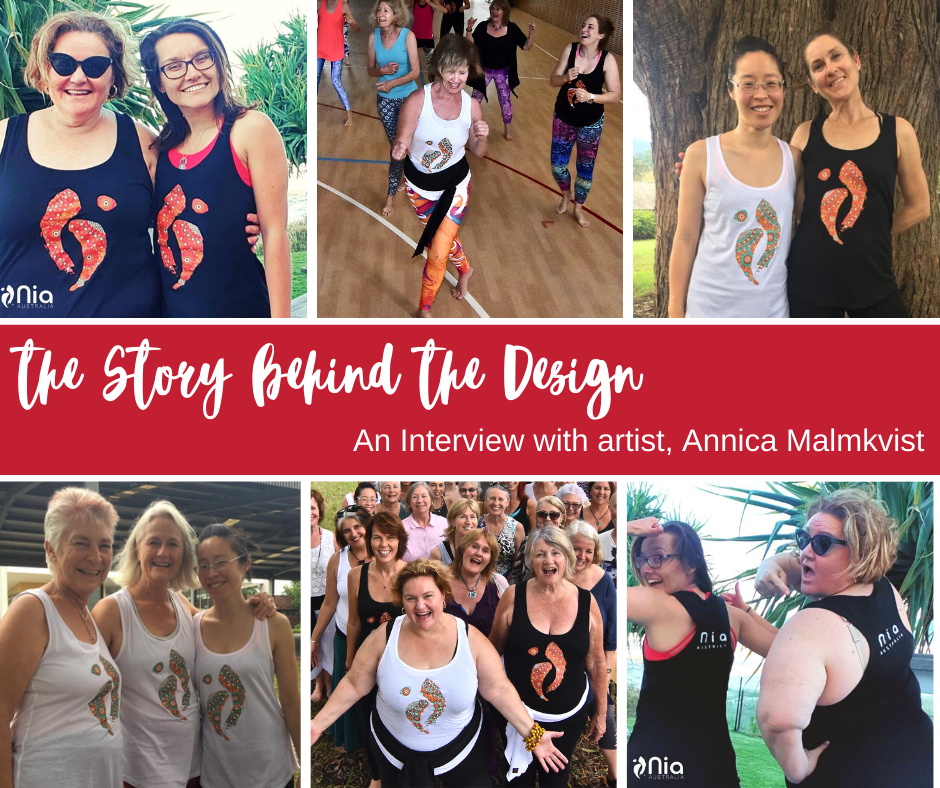 An Interview with artist, Annica Malmkvist who designed the Nia Swish on our apparel collection
In 2018 Nia Australia commissioned Brisbane artist Annica Malmkvist to design the artwork for our first apparel collection. That was such a success we again commissioned her late last year for our Spring design also. Below you will learn about Annica's story and the inspiration behind her artwork.
Please share with us a little of your story?
I was born in Sweden but since 2005 I have called Brisbane home. I recently celebrated my 15th anniversary of living in Australia – that was on the 19th August. It is a very special date for me, as it is also my sister's birthday.
Moving here 15 years ago with my partner, the intention was for us to only stay one year, as he had secured employment here. Through sponsorship, I was able to join him in Australia. It wasn't long before I started on my own next life chapter and began training in Kahuna Massage on the Sunshine Coast and continued training there for many years.
As the years went by, I began to make many new friends, whom I now call my family.
In 2013, I became a proud citizen of Australia, which is such a treasure to me. Today I have dual citizenship and am often torn between the two countries I love.
Can you tell us about your Art Journey?
I have been an artist for as long as I can remember.
I draw a lot of inspiration from nature and love illustration and cartoon drawing, but painting is my true love. Painting is where I tap into my true Joy.
I love the shapes that are inspired through nature and then the shapes within the shapes. I also love painting landscape style, as it helps me with my flow and creativity.
Have you been able to create a business through your Artwork?
I have and I'm so grateful for the income I earn through my art. In fact, my art sales have paid for my last few trips to Sweden.
I still have a part-time job at Perfect Potion Products, which sells essential oils and organic beauty products.
During lockdown, here in Brisbane, I was forced to rely on my art for income. That opened up a lot of creative opportunities for me and I actually sold many paintings – and continue to do so. I turned my front fence into a suburban art gallery for people out walking and as a result I appeared on television. People were knocking on my front door to buy my art!
I feel very blessed and supported and feel like "it was a blessing in disguise".

Where can we find your Artwork?
I'm thrilled to have my artwork around the streets of Brisbane, through Brisbane City Council – Urban Smart Projects via the traffic signal boxes and Energex substation in Paddington, Red Hill, outside Suncorp Stadium and Moorooka.
I won an Art Force Award for the piece in Moorooka. Since winning the award, I have had the opportunity to have paid commissions through the street art exposure.
Are you still practicing Kahuna Massage?
I'm not at the moment, but it's always at the back of my mind.
What's the inspiration behind your business name 'Art Body Soul'?
It draws on all my passions and loves; essential oils, aromatherapy and art.
If you were to design a third collection for Nia Australia what would be your inspiration?
The first thing that comes to mind are different shades of green, representing new life, new beginnings. I am instantly drawn to my heart chakra, which I feel is what is needed given the uncertainty of 2020.
I'm also drawing inspiration from the Jacaranda tree, its purple and white [colours] with a monochrome grounding, which will be softer than the last collection.
You can connect with Annica and view all her amazing artwork at Art Body Soul and her Facebook Page.
Thank you to Giulia Ponticello, one of our dedicated Nia Australia Committee Members for taking the time to interview Annica and write this post.