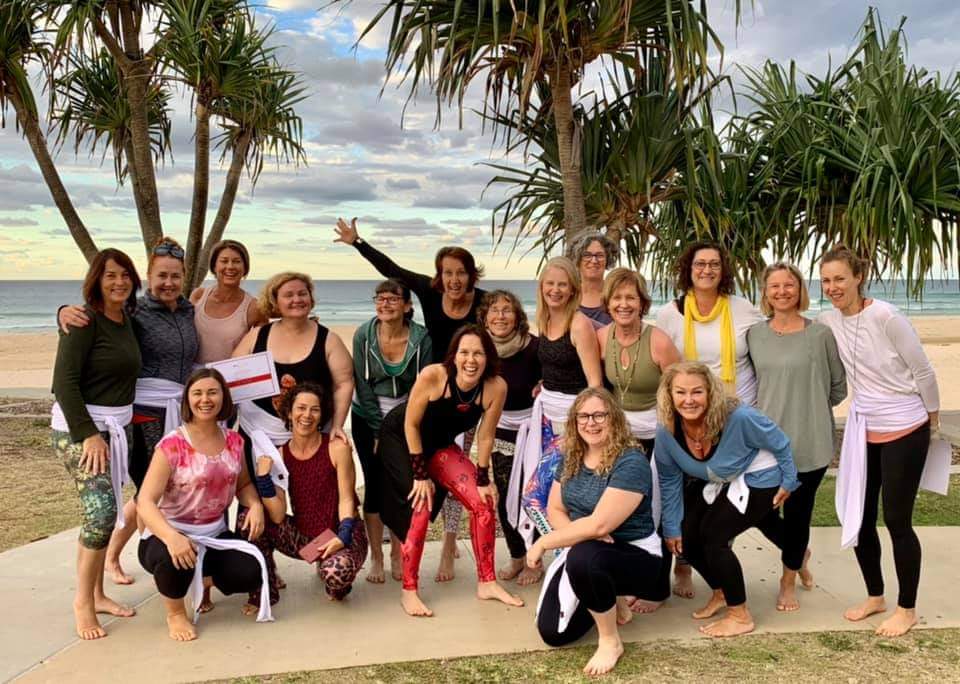 What was your biggest takeaway from this training? 
There have been so many takeaways, where do I start!  Being able to attend the unique experience of the White Belt 'in person' training was extraordinary in these times.  I gained a new awareness of my body and my body's way in moving.  I was able to relax into awareness of my body and appreciated connecting to sensation gained through the repetition of movement katas (movement patterns).  I learned to trust my body, to listen and feel the movements, giving myself permission to stay longer in the movement to open to potential and possibility.
Was there a particularly magical moment?
At the end of one of the public classes, Sophie invited us all to go on the floor belly down, head facing the middle of the circle, arms stretching out body width apart and touching our neighbour's hand or arm, forming a sacred monad.  In that magical moment I felt safe, connected and the magic of being part of the Nia community.
How did adopting beginners mind help you in this training?  How did it enhance your experience?
Dropping back into 'beginners mind' help me relearn and rediscover different ways of receiving information into my body, my mind, my emotions and my spirit.  I found a new friend on the dance floor – FreeDance.  That practice really enhanced my self-expression, not to over-think and encouraged me to move in different and transformative ways.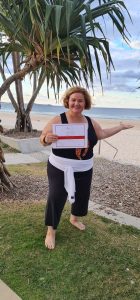 What was the difference about this training to other trainings/previous retakes of the White Belt? 
Every training that I have taken has been a precious gift to me and my body.  The skills, tools and guidance I have received through these many trainings has been my life saver, my sanctuary.  The main difference for me between this retake of the White Belt training and previous trainings has been the connection to others and feeling safe in the space during this pandemic.   After so much isolation during the year, I relished being in a room filled with likeminded individuals.  I felt a deeper connection and appreciation for our Nia community.
Why have you chosen to retake the White Belt training multiple times?
White Belt is the foundation of all Nia belt levels.  My body is constantly evolving, therefore each time I retake the White Belt in my 'now body' I gain more awareness; I embody the 13 principles more deeply, I sense my body from a different perspective.  It is a profound welcoming home to my body that is difficult to explain, the White Belt is like my anchor back to sensation.   I am constantly amazed at the changes I feel in my body since I took my first White Belt training in 2015.
As someone who has completed nearly all the Nia Trainings, including the 1st Degree Black Belt, why would you recommend the White Belt training? 
White Belt is a body and life program.  It encourages you to choose Joy and pleasure in living in a body.  I highly recommend the White Belt training if you are ready to step into your potential and explore new possibilities of living and being in your body.  Sign up now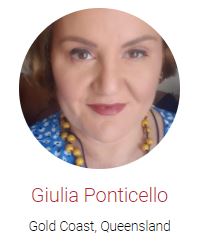 Giulia has completed the Nia White, Green, Blue, Brown, Black Belt and First Degree Black Belt trainings and the Nia 52 Moves, Moving to Heal, and Art of Teaching trainings.  Giulia is based on the Gold Coast.
"I was hooked as soon as I walked into my first Nia Dance Jam decades ago. I danced like every one was watching….with my eyes closed of course.  With self healing and several trainings later, I was able to dance with my eyes opened, smile and breathe in the potential and possibilities that this practice offers.  My body, mind and spirit are ready to step in to sharing my passion for Nia. I want to encourage others to feel alive, energised and connected to sensations they have never felt before. Nia is a self healing practice and it's more than just dancing for me."
Email:  
Mobile:  04123 63 555