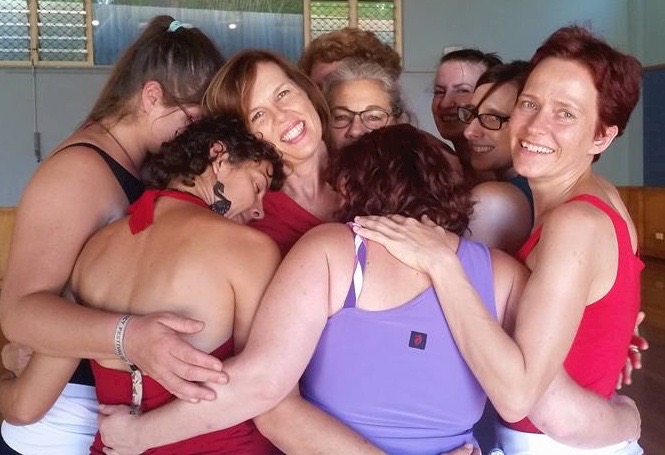 In a society that generally promotes an image of health, fitness, beauty and power that is air-brushed, ageless, homogenous and unattainable, Nia says, 'Come as you are, in your glorious wholeness and imperfection, learn to listen to your body's wisdom, be kind to yourself, and dance like no one's watching.
No more apologies, guilt, comparison or shame. What if 'Health' was about choosing Joy and expansive self-love? What if 'Fitness' was measured as your capacity for pleasure playfully expressed? What if 'Beauty' was defined as inner peace? What if 'Power' meant owning your magnificence and honouring your temple body? 
This was the message and medicine I received when I stepped into my first Nia class in Colorado 17 years ago. In that moment I realised I had forgotten how good I could feel in my body, mind, emotions + spirit.  From that very first experience I sensed that I would practice Nia for the rest of my life, and that I would share it with others. This passion still lights me up every day and though it hasn't always been an easy path to follow, Nia has opened the door to redefine what health, fitness, beauty and power mean to me. Imagine what your body and life would look like if you took the lid off what you thought was possible, releasing from society's constrained container of how you are 'suppose to be'. With each class and training I am reminded… but wait… there's more. It's not all 'downhill from here' as we've been conditioned to believe.
Nia is a movement practice that begins with tuning IN, accessing that powerful inner-sense that holds the beauty + essence that is YOU. There's no pressure to perform or any expectation around keeping up. There is an invitation to leave distractions behind and Be Here Now. There is permission to play as big or small as feels safe for you. There is a delicious mix of music and movement, designed to condition and heal in your body's own way and natural time. There is freedom for you to fully express all that you are. There is a wonderfully supportive community. There are 13 White Belt principles that can guide you into 'Embodiment in this Lifetime'. 
Nia welcomes without judgment your saggy and wobbly bits (and tight and toned bits too). It makes space for your 2 left feet (or wherever your coordination is at). It supports your nervous system to relax, adapt and create. Nia invites you to pay attention to your pain and bring your intention to heal and feel pleasure. You can move through your disappointments and celebrate your determination to be the best version of yourself. There's no story around your tight shoulders, your dodgy knees, your shitty mood, your busy mind, your 'hell yes' or your 'f*@# no'. Dance whatever is real and true for you in this moment. Seek inner stillness. Sound your authentic voice. Laugh. Cry. Be Seen. Disappear. Sweat your prayers. Move through your fears… or come home to your comfort zone. For it is ALL welcome for you to explore on the Nia dance floor.
It is exciting to be part of a global movement that is pioneering a multi-dimensional, inclusive, and empowering perception of health, fitness, beauty and power. Step in (again and again) to a Nia class, retreat or training and remember how good it can feel to move, create, express and be in your amazing body.
by Sophie Marsh
Sophie Marsh is Australia's first Black Belt teacher and only Nia White Belt Trainer. She has dedicated nearly 2 decades to educating and inspiring people to move, heal and transform through Nia, while collaboratively building a vibrant Nia Australia community.