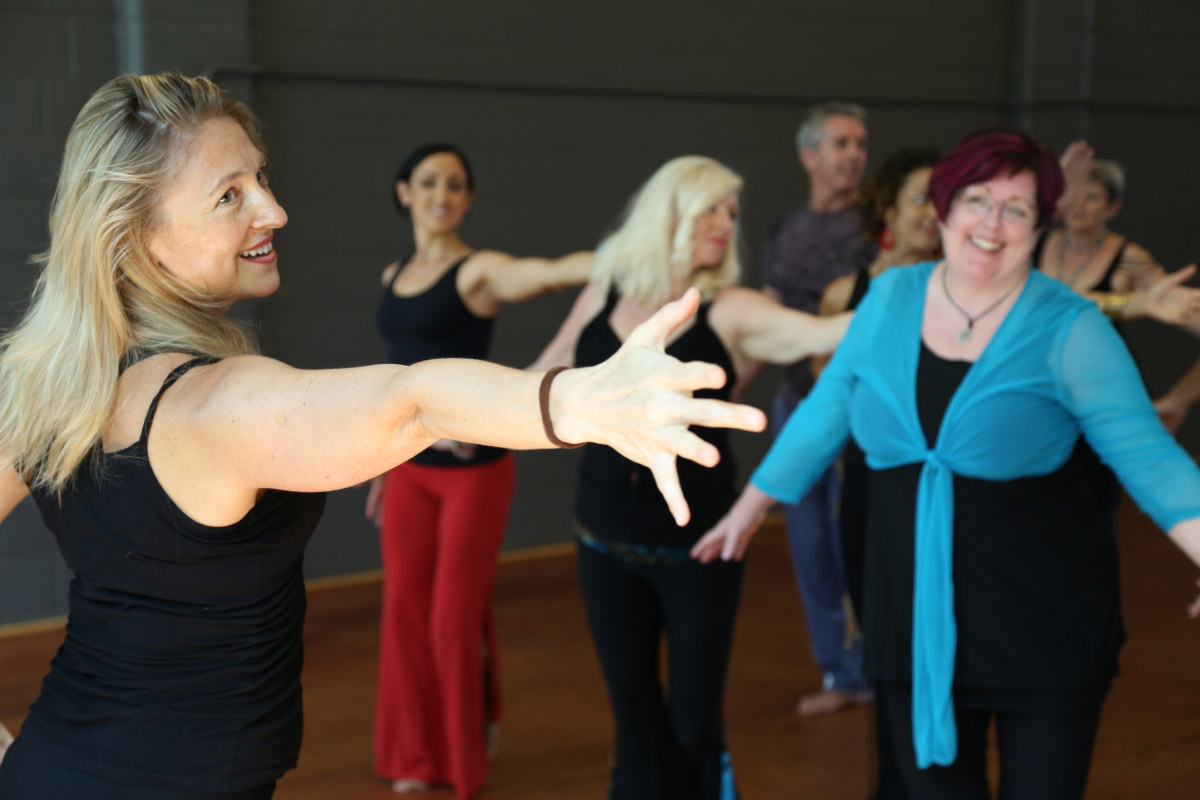 Here are our FAQ. Feel free to email or call a teacher directly or Contact us if you have any more questions. Nia classes are adaptable for all ages, body types and fitness abilities. Everybody is welcome!
What do I wear to class?
Wear comfortable clothing that makes you feel good and free to move.
I am not very coordinated and don't know how to dance. Can I still do Nia? Are there classes for beginners?
You do not have to have a dance background or any movement training to enjoy Nia. There's no minimum ability level when it comes to Nia. Initially as you 'Learn the Moves', we encourage you to keep your interest and fascination up and your criticism and judgment down. Be gentle, be patient and allow yourself to move through the levels and stay on plateaus – this is the way to master and enjoy anything! In natural time, you'll feel ready to 'move' and 'energise' the Nia moves.
I really need an intense, cardio workout. Will Nia be enough for me?
Nia is offered at 3 levels of intensity. Students are encouraged to play with movement variety, to tone intrinsic muscles, close to their body's core and to push the boundaries of their athleticism, wherever that may be. While Nia is low impact, it offers excellent whole body cardiovascular conditioning. Come prepared to sweat.
Is Nia for someone who is out of shape? What about overweight?
Definitely! The beauty of Nia is that it's adaptable to all level of fitness. There is no "keeping up" with the group. In class, we will guide you to move "Your Body's Way" and show different options for decreasing or increasing the intensity of the workout. Students are encouraged to listen to their body through sensation, to seek pleasure and comfort, adjusting the moves to achieve harmony, balance and peace. Respond to even the smallest sign of discomfort by changing what you do and how you do to feel pleasure. Build intensity gradually.
Can I do Nia if I'm pregnant?
As with any form of exercise during pregnancy, we'd advise first consulting with your pregnancy health professional. However, Nia is inherently a low-impact form of exercise where you can self-regulate your exertion level. For the many women who practice Nia well into their pregnancies, it is the perfect pre-natal class.
Is there a format to a Nia class?
Yes. Every Nia class has 7 cycles: Setting the Focus and Intention, Stepping In, Warm Up, Get Moving, Cool Down, Floorplay, Stepping Out.
Is it required to do Nia barefoot?
Nia is designed to be practiced barefoot. With bare feet we have access to sensation through 7000 nerve endings, providing greater stability as we strengthen the muscles, tendons and ligaments of the feet, legs and trunk. If there are physical reasons not to practice Nia barefoot, a soft sole shoe may be worn.
I'm in my 60's. Am I too old for Nia?
Nia's low impact, grounded movement can benefit people at all ages and stages of life. Nia can improve mobility, stability, agility, flexibility, balance, strength and energy levels. The adaptability of Nia means there's no age limit on the ability to practice (or enjoy) Nia.
Is Nia for kids?
There are children's Nia classes in many locations. Some general classes welcome older children too. Please talk to your instructor if you are not sure. If you would like a class run for a specific age group, why not approach your local Nia teacher about starting a kids' class in your area?
Is Nia for men and women?
Yes!
Can someone with "bad" knees do Nia?
One of the guiding ideals of Nia is what we call "the pleasure principle" using comfort and ease as a way to move and get fit. In Nia, students are guided and empowered to make their own movement choices moment to moment. With awareness, and over time, Nia may help to heal those "bad' knees!
Where can I find out more about Nia?
Subscribe to the Nia Australia newsletter.
Check out www.NiaNow.com, the international Nia website.
Read the Book: "The Nia Technique: The High-Powered Energizing Workout that Gives You a New Body and a New Life" (2005) by Debbie and Carlos Rosas.
Ask your local Nia teacher. Nia teachers are passionate about they do and love to share their Nia stories. 
Source: NiaNow.com