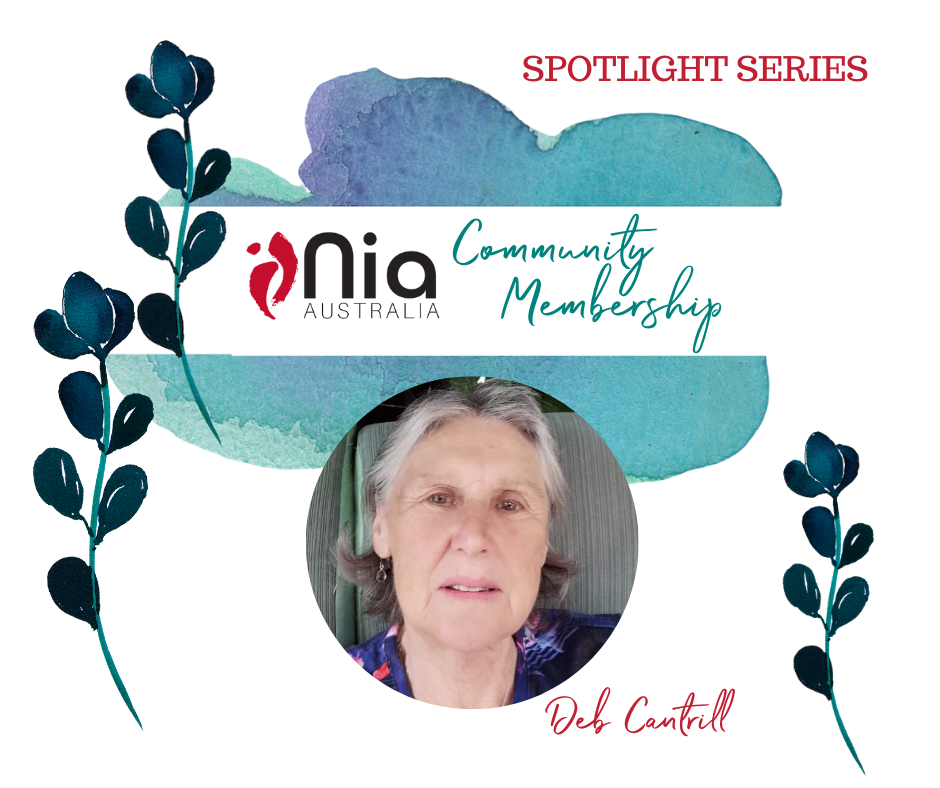 Name of Nia teacher/community you dance with most regularly:
Tracy Bastian Adelaide Hills/ Bridgewater & Mt Barker
Occupation/profession:
Self employed biodynamic Orchardist /educator and Natural fibre artist. Trying to retire may have reached sort of semi retired state at present.
If you were to describe yourself in one word, what would that word be?
Resilient
What three things give you a felt sense of Joy in your life?
Creating something from nothing landscapes/art
Being outside close to nature, growing garden to table seasonal food/ life in the slow lane with Quentin our dogs, geese and chooks.
Nia, Dance and music.
If you were to give your younger self a piece of advice, what would it be?
Do things your way, look after yourself especially your bones, love your body, sit on the grass more often, enjoy your own company and the quite sound of nature check out Nia
What inspired you to step into your first Nia class, and what keeps you coming back?
I was diagnosed with osteoporosis after a couple of serious fractures needing to do more weight bearing exercise. I was with a friend at aqua aerobics and she said she was going dancing that evening so I tagged along and it turned out to be a Nia class (I had never heard of it) and from the very first session I loved it and I've had a smile on my face ever since. What I like about Nia is that I could move and do things that I thought I could not. It was enlightening and came with  out pressure or competition. I've observed my balance improving and general wellbeing and agility improving.
What is one surprising benefit you have received from Nia?
How quickly I improved after 5 years of struggling to get my work done and being miserable and frustrated with my lack of mobility, agility and balance. After doing my white belt training I feel a sort of lightness in my body and spirit.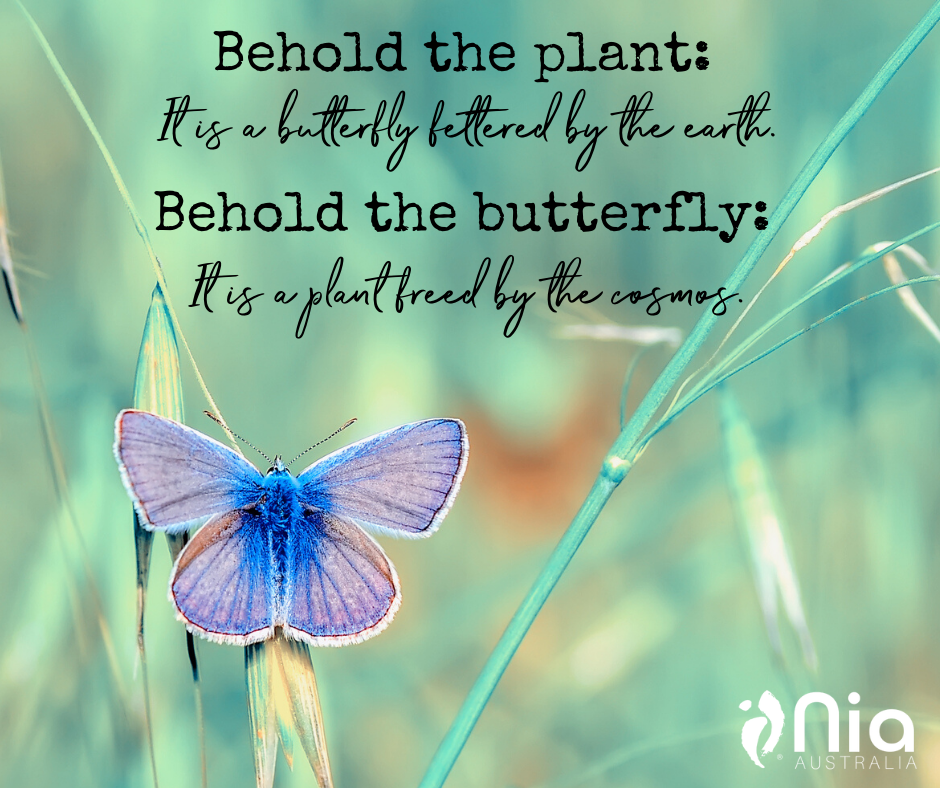 'Fluttering plant of the air, the butterfly ,to the butterfly firmly rooted in the earth ,the plant. The earthly plant is firmly rooted in the butterfly. The butterfly in a flying plant. We have now established the bridge between animal world and plant world'
Rudolf Steiner 1923
My favourite has to be the 5 stages.
My White Belt Training:
My white belt experience was a wonderful journey that continues on. For me it was more than I expected. I knew Nia was special the first time I tagged along with a friend to a class knowing nothing about it and whether firstly I could actually move and secondly move to music.
I was curious to know more and Tracy encouraged me to do my White Belt training. I found a training that fitted into my work schedule in Canberra. So off I went. Curious to note that the last time I visited Canberra in 1972 I attended a Rotary Youth Leadership Award Training which as a young person it changed my life and enabled me to follow my dreams. So back in Canberra with Nia the same can again be true in varying ways.
Before I went, I had written somethings I thought I wanted to achieve. These where all physical things I had struggled with since my 60 year which was the beginning of a series of broken bones/knee /hip that dragged on for years.
With the help of Nia I hope I have left all that behind as yesterday I had my 2 year assessment at the Uni of Adelaide as part of a research project in the 'Motion Lab'. Where they record how you move before, just after and at regular intervals up to 2 years after hip surgery. While the results will take time to analyse and individual results won't be there, I know that when I walked up and back the floor monitors, cameras and the sensors on my body where all smiling as I did my very best Nia walk with joy and confidence.
This was a good way to close off a rather dark chapter of my life -with the view of dancing through the rest of my life.
I'm still working on 13 principles most of which have gelled nicely but a few need more work which keeps me focuses and on my toes.

For those unfamiliar with chestnuts they grow on large trees (related to oaks) and in Autumn the nuts fall to the ground. There are machines that pick them up but we hand harvest due to slopes and scale.
The body can get over worked with all the bending as you my be under one tree for several hours so I found if every time I moved the bucket I stood up and did a couple of hip bumps, spinal rolls or just cha cha cha, moved my upper body in some way by the end of the day I felt tired but great. Thanks to my Nia training.