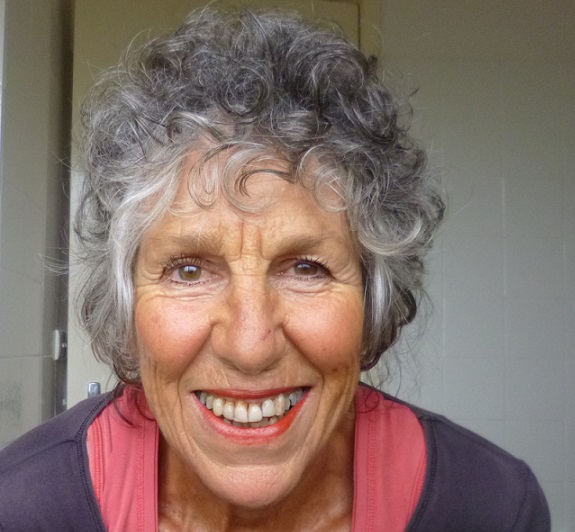 Biography
Stephanie has completed Nia's White, Blue, Brown and Green Belt trainings and Nia Moving to Heal training. She is based in Garden Bay, South Coast, NSW.
"In 2019 a friend showed me a short video on her phone, saying, "I think you'll like this!" Turned out I did like it – very much – and my goal of becoming a teacher took hold immediately! I love having Nia as my dancing partner in life. The feeling of being completely immersed in joy when I dance is unmatched by anything I have done before.
Twenty five years ago my lifelong love of plants, together with a passion for human anatomy and physiology came together in the clinical practice of herbalism – healing in the body's way.  My passion for Nia was born out of these two careers ~ and they are a marriage made in heaven!
As a health educator, I share my knowledge about our body's natural urge and ability to heal and regain balance through movement. I'm constantly inspired by the wide range of musical styles that Nia provides to keep us all moving. And I LOVE feeling so physically strong, grounded and flexible, so that I can say thank you each and every day for waking up in a mobile body."
Pricing and Details
Classes are currently held on Tuesdays and Fridays at Batemans Bay Basketball Courts (next to the Library) from 09:30 – 10:30.
Saturday morning classes coming soon at Stepz Dance Academy (to be confirmed).
Casual/drop in class: $13.00
Three class pass $30.00
Contact Stephanie –
Mobile: 0423 140 450 / Email:
Batemans Bay Basketball Stadium
Batemans Bay Basketball Stadium, Beach Road, Batemans Bay NSW, Australia
Classic Nia is a joyful, low impact movement class inspired by soul-stirring music. Nia's unique blend of martial arts, dance and mindfulness gives you an energising cardio workout that benefits body, mind, emotions and spirit. You'll be guided to listen to your body, moving with sensations of aliveness, pleasure and ease. Adaptable for all ages and fitness levels, Nia meets you where you're at and invites you to move in your own body's way.